Our masterful therapists offer soothing massages, glowing facials, stress-relieving baths, and detoxifying mud experiences. We truly have something for everyone!
Pumpkin Perfect Facial
Pumpkin enzymes and exfoliating acids will renew skin's youthful glow this autumn. Replenish dry skin with advanced peptides, essential minerals and vitamin C to minimize the look of fine lines. This is our most active facial treatment for those looking to see serious results.
60 minutes $220 
The September Soother
Take a dip in our mineral pools, soak up the sun, then calm your senses with a cool marble stone Chakra healing session. Detox with a wine country mud wrap, melt under a soothing massage with an arnica infused cream then float away feeling relaxed, refreshed, and ready for a lovely summer stroll through the vineyards.
*Available through September 30th.
60 minutes $220 | 90 minutes $330
Here's The Rub
Our signature Swedish style rub-down is customized to provide gentle relaxation with long fluid strokes and light-to-firm pressure.
60 minutes $195 | 90 minutes $295
Deep Rub Down
This ultimate deep tissue massage uses targeted techniques and firm pressure to release muscle tension. The focus is on the deepest layers of muscle tissue and tendons. 
60 minutes $220 | 90 minutes $330
Aroma Bliss
Breathe deeply in this aromatherapy massage to receive all the sensory benefits of your chosen oil of Renewal, Optimism, or Sanctuary.
60 minutes $205 | 90 minutes $310
CBD Massage
Our CBD cream is formulated with broad spectrum organic hemp oil and six healing herbs, including arnica and ginger, to provide next-level relief to sore muscles and joints. 
60 minutes $215 | 90 minutes $325
The Hot Himalayan
Our superstar salt stones are packed with alkalizing minerals to neutralize the body and bring it from an overly-acidic state. 
60 minutes $205 | 90 minutes $310
The Best of Both Worlds
It is a noisy world, so we created this service to quiet the mind. A relaxing hair and scalp treatment, targeted back, neck and shoulder massage, and foot scrub will leave you relaxed and refreshed.
60 minutes $200 | 90 Minutes $300
Mother-To-Be
Our specially trained massage therapists will address your changing body's needs during your second or third trimester of your pregnancy. For comfort, cushions and pillows are used for positioning to ensure the safety and comfort for both mother and baby.
60 minutes $205
MoonAcre Mud Bake, Bath & Massage 
Cake, bake, rinse and relax while enjoying our spin on Calistoga's historic mud bath ritual. Immerse yourself in a geothermal salt soak then cruise over to our spa garden to paint your skin with mineral-rich mud, and relax in the sun as it dries. Rinse under a rain shower, and complete your experience with our signature Here's The Rub Massage and steam.
120 min $345 per person
CBD Mineral Soak
This restorative bath is infused with organic CBD, lavender and bergamot essential oils to provide relaxation and deep muscle healing. It's also the perfect hangover cure.
*Add-on to any massage or facial
30 Minutes $100 per person
Aromatic Salt Soak
Immerse yourself in a re-mineralizing, aromatic salt soak in one of our gorgeous clawfoot bathtubs before your treatment. We draw the water, and you soak your cares away. 
*Add-on to any massage or facial
30 Minutes $75 per person
Mud Bake 
Paint your skin with mineral rich mud and relax in the sun as it dries in our spa garden. Then rinse under our outdoor rain shower before you enjoy your treatment of choice.
*Add-on to any massage or facial. 
30 minutes $75 per person
Pure Radiance Facial
Nourish dehydrated skin to restore a youthful appearance with this results orientated facial. A triple dose of Vitamin C refines lines and evens skin tone.
60 minutes $210 
Rose Glow Facial
Hydrate, soften, and soothe with this nourishing facial. Packed with vitamin-rich oils of avocado, sunflower, sesame, hazelnut, and jojoba leaves you with a natural, dewy glow.
60 minutes $200
Calistoga Custom Facial
Our Calistoga Custom Facial utilizes a variety of enzymes, peptides, and stem cells to create an experience designed to be just as unique as you are. Your Esthetician will begin with a consultation to help you choose the ideal facial for your needs. This results-oriented treatment will address your individual needs whether it's acne, firming or redness, this is the facial for you.
This facial can be customized to focus on your personal skin concerns. Redness relief, dry and dehydrated skin or blemish prone skin.
*Allergies to ingredients such as tree nuts.
60 minutes $215 
Add in any of these collagen treatments to your service.

Eyes on You
This micro-infused collagen treatment will improve elasticity, texture and overall appearance of the skin below the eye with just one treatment.
$15
Face Forward
A textured collagen gel mask that will firm and soften your face and neck, while immediately smoothing fine lines and wrinkles.
$20
Hand it Over
This pomegranate infused collagen treatment is the anti-aging powerhouse that is perfect for overly dry or aging hands.
$20
*Please contact our team at spahost@moonacrespacalistoga.com or call 707-942-0992 to add an enhancement to your experience.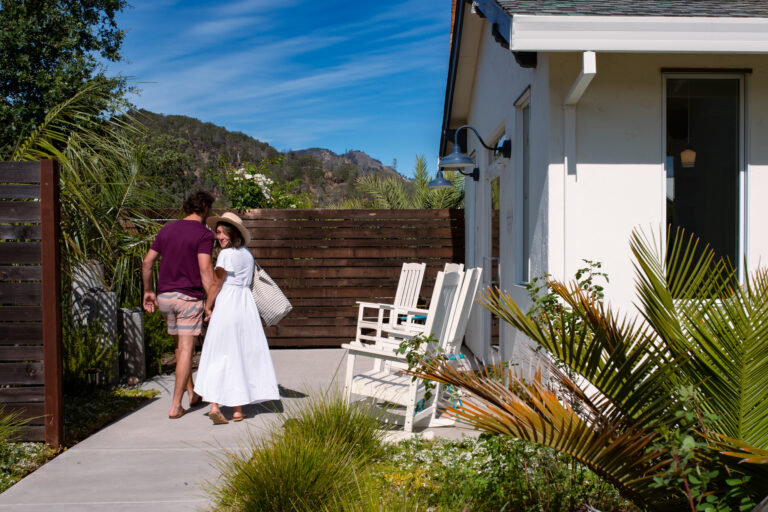 Relax and get in the mood with our Pre-Spa Ritual
Calistoga has been a sybaritic go-to for its natural mineral hot springs and mud baths for more than a century. Continue that rich tradition in one of our three mineral pools fed by geothermal hot springs below our property grounds, then stroll on over to MoonAcre, take a steam and chill in our relaxation garden before your spa treatment. Our Day Spa Pass allows guests who book a full spa treatment to enjoy our pools, spa garden, hammocks and steam room for up to two hours, before or after your treatment. Make sure to leave your day open for a full spa day experience. 
Location
MoonAcre Spa and Baths is located at the Calistoga Motor Lodge and Spa.
Our address is:
1880 Lincoln Ave.
Calistoga, CA 94515
MoonAcre Spa Hours
Monday through Thursday: 9am – 5pm; Friday, Saturday & Sunday: 9am -6pm
Treatment times are based on availability.
Reservations
A valid credit card is required to hold all reservations.
Reservations can be made via our online booking system or email spahost@moonacrespacalistoga.com.
Please notify us of any health concerns prior to making your appointment. We welcome guests ages 16+.
Make the Most of Your Spa Time
MoonAcre Spa is open to Hotel and Day Spa Guests. Please see our  spa treatment menu for more information. To fully enjoy your experience, we recommend arriving at least 15 minutes prior to your appointment start time.
You are welcome to take advantage of our co-ed steam room, spa garden, and mineral pools for up to two hours before and after your treatment. Please note, that we will need to reduce the treatment time for those who arrive late.
Spa Environment
The use of cell phones, laptops, and other electronic devices is permitted in the spa. However, we invite you to practice some digital detox and encourage you to leave your devices in your locker. We welcome guests ages 16+. 
Cancellation and Change Policy
We require 24 hours notice for any changes or cancellations to your Spa Treatments and 48 hours notice for Wellness Classes to avoid a fee of the full cost of your service to the credit card we have on file.
Dress Code
Swimsuits are required to enjoy the pools. Robes, sandals and towels are provided for your comfort.
Gratuities
A recommended 23% gratuity will be added to your service total for our spa team. You are welcome to adjust the amount with your spa host at time of checkout. Gratuities are not prorated to reflect discounted pricing.
Valuables Storage
You will be given a private locker for your exclusive use.
Gift Cards
Our gift cards can be purchased in person or online. They can be used for a spa treatment, a hotel stay or a meal at Fleetwood.